Sustainability
Saqua Studio is fully transparent regarding all materials, sourcing and manufacturing. We want to show the world that fashion doesn't have to destroy our planet!

This page details all materials that go into Saqua Studio products and packaging, giving you the opportunity to better understand what you choose to purchase. Currently all materials that we manufacture our styles with - except our care labels - are made in Europe and 100% of our materials are Ökotex-100 certified at the very least, which means they contain no harmful chemicals that could hurt you. We aim to create a radically sustainable product, made with non-conventional materials inside out.
STUDIO
We develop and produce our collections in our studio, located in Paris. Pattern-making, research and fittings take place in-house.
We want to have a positive impact on all of our community: this includes our customers but also all of our collaborators. We don't work with suppliers or factories where workers can't access fair working conditions and enjoy a decent standard of living. Currently, we produce everything in our studio after orders have been placed - or in small batches - to avoid over production.
FABRICS


ECONYL® regenerated nylon
ECONYL® regenerated nylon is made by recovering nylon waste - such as fishing nets from the oceans and aquaculture, fabric scraps from mills and carpets destined for landfill – and turning it into virgin quality nylon yarn that is then spun into fabrics. This amazing fiber turns waste into a fashion solution. It reduces the global warming impact of nylon by up to 90% compared with the material from oil.
All Black, Hot Red and Smoke Grey styles are made of 78% ECONYL® regenerated nylon and 22% elastane.
Our fabric is made in Italy, it's comfortable, soft, stretchy, and offers UV protection. Tests show it is twice as resistant to chlorine, suntan creams and oils compared to similar fabrics. It is Ökotex-100 certified.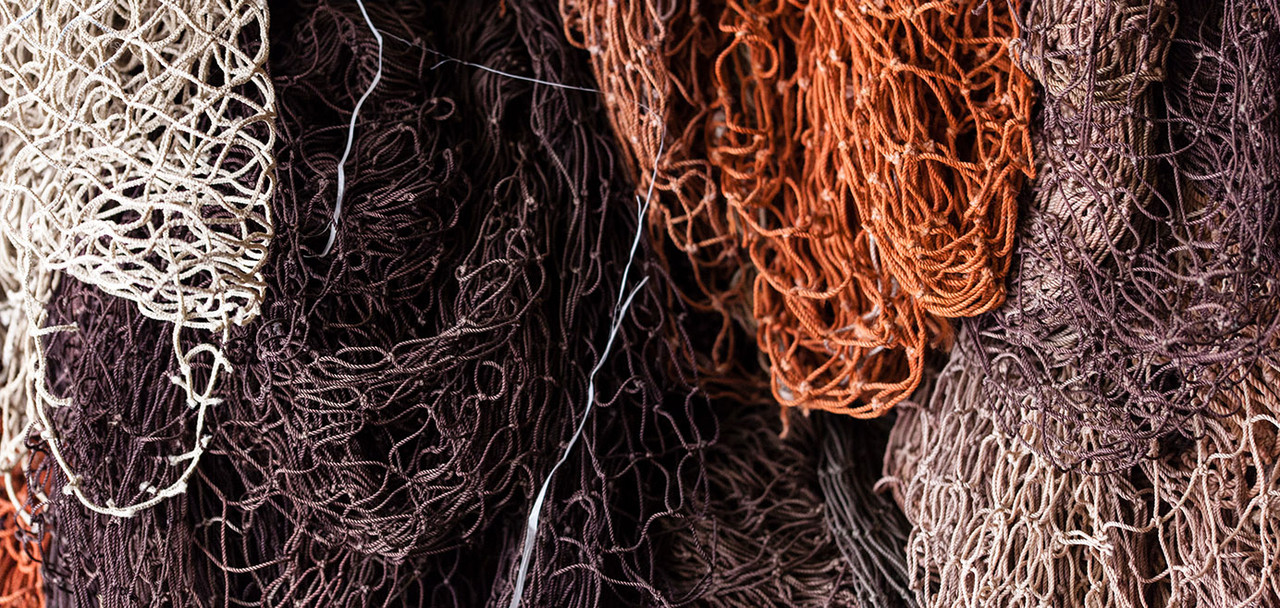 Upcycled fabrics: production leftovers & dead stock
Why not using what is already available before producing more materials? We save fabrics left behind by other designers and turn them into beautiful intimates. Sometimes we get a few meters of fabrics, sometimes we get only scraps: we constantly look for new materials suitable for our needs and we get creative with what we find!
Currently all Turquoise styles are made with leftovers from designer FLR. The fabric is Ökotex-100 certified.



Fabric scraps


We use fabric scraps that are too small to make intimates with to create and experiment for our new collections, and we recycle all fabric scraps that are too small to use in the studio.
Recycling
We disassemble and recycle pieces that have ended their lifetime with you. Please get in touch if this sounds like something you need. Don't put Saqua Studio in landfill!



METAL PIECES
The metal trims are safe to use in swimming pools & in the sea, this will not alter their appearance as they are designed to last and shine through time! They are made of zamak metal with a nickel-free finishing to limit risks of allergies. They contain no heavy metals, are made in Italy and are Ökotex-100 certified.
In the future, we can hopefully find recycled metal trims, but we haven't found this option on the market (yet).




ELASTICS
We sew elastics in the seams on the edges of our garments to ensure their longevity. This allows the garment to stay in place and hold its shape through time.
Designed in Germany and made in Austria by Charle, they are the world's first proven ecologically sound elastics! They are plastic free, made of GOTS-certified organic cotton and natural rubber. They are biodegradable, recyclable and of course Ökotex-100 certified.
This is a great option to conventional plastic elastics widely used in the fashion industry.



YARN & CARE LABELS
Gütermann Black 100% recycled polyester thread is used where possible through the collection. It is made of PET bottles that are shredded into flakes and turned into high quality yarn, made in Germany.
The care labels are also made of recycled polyester, and they are made in Vietnam.
Both yarn and care labels are Ökotex-100 certified.


PACKAGING
All mailers are fully biodegradable and safe for home compost (except the shipping label and tape). They are made from corn starch and cassava roots.
Ideally these should be sent to composting facilities, but if you want to compost them at home, then cut them up and place in your compost bin. They will completely break down within 90 days in a compostable environment. They are stable and will not disappear from your shelf, though!
Thank you for being here and helping make the world a better place by choosing products that were created consciously.
Don't hesitate to reach out to hello@saqua-studio.com for more information.

FIND OUT MORE
Have a look at these links for more information:
ECONYL® regenerated nylon process→

Charle's ecological alternative to conventional elastics→

Photography: Julia Vadée & Aquafil